ESG provides one-stop event management services including pre-event marketing, registration process, event execution and post-event engagement. With a strong understanding of the customer journey for both virtual and physical events, ESG is well-versed in creating memorable event experiences for attendees and measurable outcomes for partners.
From onsite to virtual staff engagement activities, virtual business conferences to bespoke company events, our team of dedicated managers will turn your ideas into a reality.
ESG's Event Management Expertise include:
Strategic Planning
Event Ideation & Execution
Budgeting & Procurement
Operations & Logistics
Project Management
Leads Generation
Marketing & Communications
Creative Design & Production
Some of Our Events
MOHH Healthcare Scholarships Virtual Experience 2021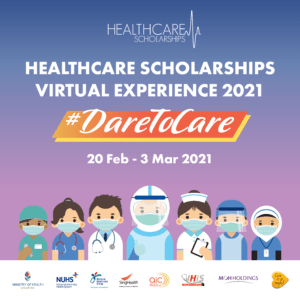 Organized by MOH Holdings, the Healthcare Scholarships Virtual Experience 2021 is the first virtual platform for scholarship & career opportunities in the health science disciplines. The 14-day event saw an attendee rate of close to 2,000 potential students interacting with scholar ambassadors, scholarship officers, partner educational institutions like the National University of Singapore and the University of Strathclyde, and professional representatives from various public healthcare institutions. Event highlights include real life scenarios in the life of healthcare workers at St Luke's Eldercare, and an interactive showcase of walking a mile in the shoes of the various healthcare professionals involved in a patient's healthcare journey.
Orange Business Services-Cisco Virtual Conference
Many parts of the world, including Singapore transited into nationwide remote working arrangements since the pandemic outbreak in 2020. Business travel and global conferences came to a halt, disrupting trade and information exchange. Our partners, Orange Business Services and Cisco, both leading technology providers seized the opportunity to adapt and engage their customers virtually. Centred around the topic on "Navigating Digital Transformation, Reframing for the New Norm", ESG was commissioned to organize a virtual conference for their existing and prospective customers.
Baxalta Virtual Events
In response to the pandemic outbreak in early 2020, ESG was engaged by Baxalta to organize monthly bespoke virtual events for internal staff engagement. We designed a series of lunchtime events featuring different wellness themes and expert speakers.
Cold Storage Kids Run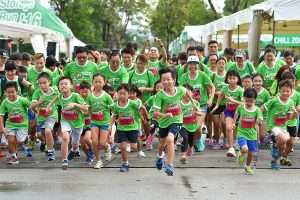 ESG created Asia's first kids-only running event in Singapore with Cold Storage as title sponsor. The annual event attracts over 5,000 kids and their accompanying 15,000 parents and friends.
Great Eastern Women 10K
ESG created the Women 10k concept and secured Great Eastern as the title sponsor for the Great Eastern Women 10k. The event garnered 14,000 participants and is the biggest women-only running event in Singapore & Asia.
FairPrice Walks With U
ESG organized NTUC FairPrice's first signature walk at Marina Barrage, bringing together 5,000 participants of all ages to promote family bonding and a healthy lifestyle. The event was graced by Singapore Deputy Prime Minister Teo and IOC President Dr Jacques Rogge.
Standard Chartered Singapore Marathon
ESG was appointed by Singapore Sports Council to manage key areas of the Standard Chartered Singapore Marathon including the Volunteer program of 4,000 people. This event attracted record 48,000 participants!
Queen's Baton Relay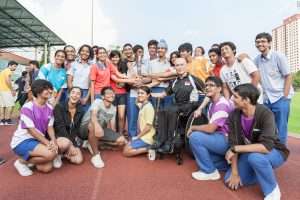 ESG was the selected organizer of the renowned Queen's Baton Relay, a worldwide relay leading up to the Commonwealth Games in Glasgow. Working together with Singapore National Olympic Council (SNOC), ESG successfully delivered the two-day Singapore leg.
Swissôtel Vertical Marathon
ESG together with Swissôtel The Stamford, Singapore's tallest hotel, organized the Swissôtel Vertical Marathon, a signature sporting event with more than 2,100 participants racing up 1,336 steps over 73 storeys in the shortest time possible.
Kingsmen Charity Walk and Bike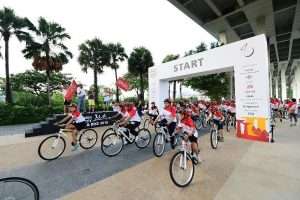 ESG organized a charity event between youths from Students Care Service and Kingsmen in a creative initiative that embraced both design and sports. ESG is honoured to be part of a worthy cause that seeks to maximise the potential of youth for their future.
Hanwell Longest Rally
To celebrate Hanwell Holding's 40th anniversary, ESG conceptualized a badminton rally to tie in donation mechanics. The event garnered 300 over participants breaking the Singapore record and attracted major media attention.
Standard Chartered Singapore Sevens 2005-2006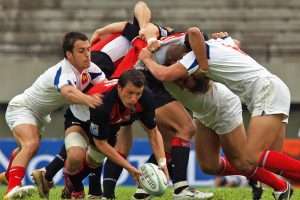 ESG was engaged as the event management company for Singapore Sevens, within the IRB World Sevens Series. At that time, the IRB Sevens was one of the biggest international sporting events in Singapore